Today, my mom cooks Tuna with Vermicelli Soup (Bún Cá Ngừ) for my family. This dish originally comes from many amazing Vietnamese Fish Recipes in our country. It is the good choise for hot and cold weater. Moreover, you only need 10 minutes; you have got a stunning dish for your beloved family.
As we know, most fishes contain many Vitamins which are necessary for our health, especially eyes. So please a
lways remember our slogan that: "Eat Well, Live Well", and do not forget to cook many good meals for yourself and family.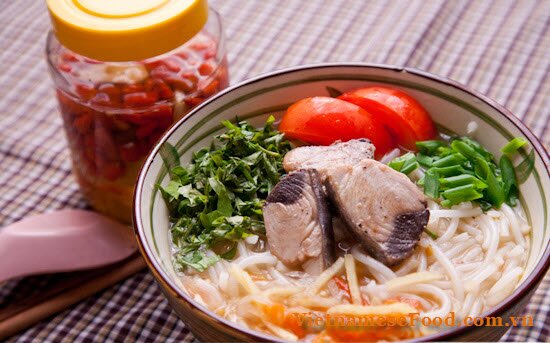 Tuna with Vermicelli Soup (Bún Cá Ngừ)
So, are you ready to cook one of amazing Vietnamese Fish Recipes like this dish? If you want to cook, please follow our instructions below carefully. This dish is absolutely suit with busy people who do not have much time for cooking.

Ingredients:

- 300gr
Tuna meat, cut into slices nearly 1cm (no bone)
- 300gr Pork Bone
- 50g Ginger, peeled and sliced thinly
- 3 Tomatoes, cleaned and sliced into 6 pieces for each.
- Vegetable Oil, Fish Sauce, Pepper, Chili, Vinegar
- 350-400g Rice Vermicelli
- Scallions, sliced small
- Vietnamese mint, sliced small.
- Chili Paste (if you love spicy)
- Vegetables: bean sprout, basil, chili, hearleaves, shallot, lemon fruit, sliced ong choy, cleaned (serve when eating).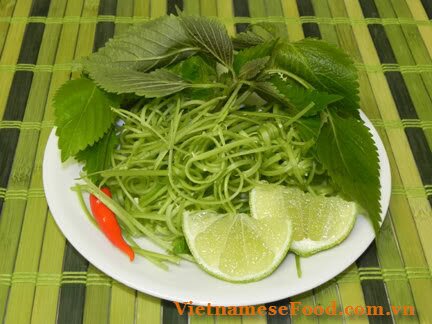 Process:

Step 1: Making Broth:
If you want your borth more sweet and delicious, you should cook with pork bone. Firstly, you clean pork bone with water added a little salt. Put pork bone
in the pot, add a little fish sauce, pepper, and ginger, cooking on the stove until the bone becomes fragrant. Add 2 tomatoes on pot with fish bones, and add water flooded over bones and simmer until cook and soft. Here is one important step to make one of Vietnamese Fish Recipes more delicious, please make sure you follow our instruction carefully.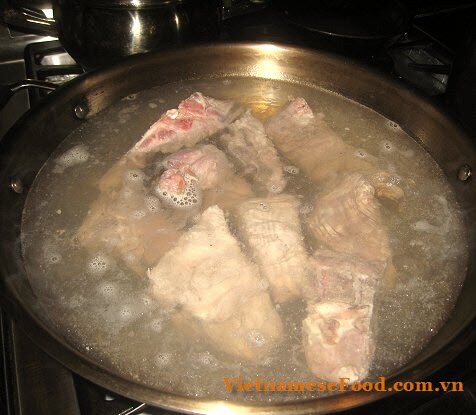 Step 2: Put pan on cooking stove, heat oil and fry fish slices to golden on 2 sides.

Step 3: Dip rice vermicelli on boiling water to clean. Divide rice vermicelli into small bowls.