Nothing better when you can enjoy Beef Balls Hot Pot with Satay
(Lẩu Bò Viên Sa Tế)
with beloved family in this winter. This dish originally comes from many delicious
Vietnamese Dish Recipes
. Eating it with vermicelli will bring a stunning flavor in your mouth. I bet your family and even your self will fall in love with it. Choose to cook this dish in Christmas Night and you will not regert about your decision.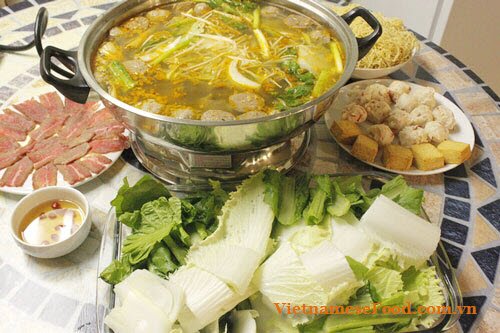 Beef Balls Hot Pot with Satay (Lẩu Bò Viên Sa Tế)
Moreover, serving this hot pot with many vegetables is the best way to taste it. So, are you ready to cook it? If you want to change your boring Christmas meals, please follow our instructions below to create one of stunning Vietnamese Dish Recipes like this dish.

Ingredients:

1kg Beef bone (leg or tail)
300gr Beef balls (Bò Viên) – Buy at Vietnamese Markets
200gr Beef meat
5 – 6 cloves lemongrass
½ onion, peeled, sliced into segments
Scallion, cleaned and chopped into short parts
Spices: salt, Maggi's stuff, chili, chili powder, fish sauce, garlic
Vegetables: Bean Sprout, Celery Cabbage, Fresh Mustard Greens.
50gr Button Mushrooms
50gr Oyster Mushrooms
50gr Staw Mushrooms
2 teaspoons annatto seed oil
Sliced tofu, fish balls (Optional)
Vermicelli or Egg noodle.

Process:

Step 1: Clean lemongrass, peel off the layer outside, chop into short pieces. Separate into 2 parts. One is minced and one for cooking with bones.
View more here
Beef Balls Hot Pot with Satay Recipe (Lẩu Bò Viên Sa Tế)