As you may know, chicken is one of good meat for your body, especially for who love work out. Today, I will help you change your boring meals with chicken. It is Fried Chicken Wings with Pineapple (Cánh Gà Rim Dứa Chua Ngọt). It obviously comes from many stunning Vietnamese Chicken Recipes. This dish is the best combination of flavor. A little sweet, sour and spicy taste will bring a amazing feeling in cold days.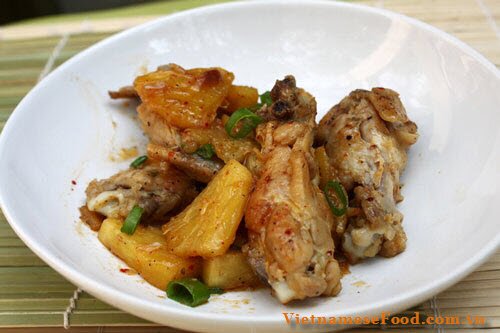 Fried Chicken Wings and Pineapple (Cánh Gà Rim Dứa Chua Ngọt)
So, are you ready to cook one of delicious Vietnamese Chicken Recipes like this dish? If you want, please follow our instructions below carefully. I suggest that you should not neglect when cooking with us to create a amazing dish for your beloved family and friends.

Ingredients:

2 – 3 big chicken wings
1 slice of pineapple
Scallion, fish sauce, garlic
Spices: salt, sugar, pepper, chili powder, Maggi's stuff.

Process:

Step 1: Clean chicken wings with water added a little salt. Next, chop in half.
View more here
Fried Chicken Wings and Pineapple Recipe (Cánh Gà Rim Dứa Chua Ngọt)