In winter, enjoy one hot porridge is perfect. From many delicious Vietnamese Food Recipes, today I decide to introduce one stunning dish for you and your beloved family. It is called Mushroom and shrimp porridge (Cháo nấm với tôm). Moreover, this dish is suitable with kids and elderly as well. If you care for your family health, you cannot skip this dish.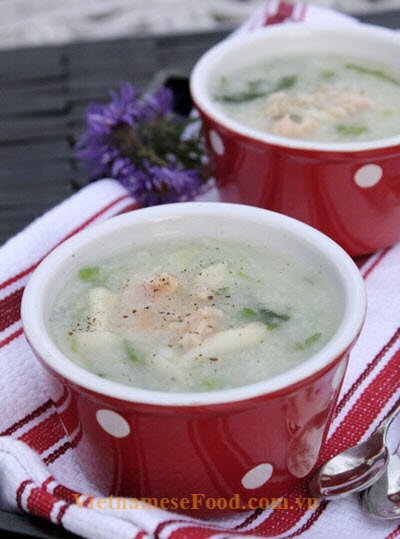 Mushroom and Shrimp Porridge (Cháo Nấm với Tôm)
There have 7 easy steps for cooking one of amazing Vietnamese Food Recipes. You only need to follow our instructions below carefully; you will create a stunning dish for your family and yourself. Let us cook now.

Ingredients:

200gr straw mushrooms/snow mushrooms
400gr fresh shrimps, you can use more squid if you love it.
½ bowl rice
¼ bowl stick rice
Spices: salt, Maggi's stuff, scallion, dried purple onion, pepper, sugar, coriander.

Process:

Step 1: Peel off the cover of shrimps, pull out the black lines on back shrimps. Then, you clean them with water added a little salt, wait to dry. Then, smash them all, marinate with dried purple onion + 1 teaspoon salt + ½ teaspoon pepper, mix together, wait about 20 – 30 minutes.