Pumpkin is a versatile vegetable which can be cooked in many ways. You can fry it, make cakes out of it, steam it or even bake a cake with it. Today I will introduce one way of savoring the delicious sweet-tasting pumpkin is to cook it with rice in a rice cooker or clay pot over charcoal fire. It is called Pumpkin with Boiled Rice (Cơm Bí Ngô). This dish is one of Best Vietnamese Food. You can also cook it in a pot over a gas stove or electric burner but care is needed to prevent burning.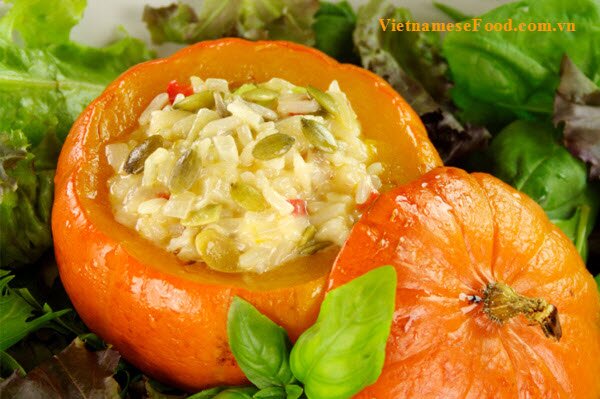 Pumpkin with Boiled Rice (Cơm Bí Ngô)
Pumpkin rice ensures that every taste of the pumpkin is fully absorbed by the rice and the use of other ingredients like dried prawns, mushrooms and belly pork makes this Best Vietnamese Food a truly satisfying dish to make and eat. You do not really have to cook anything else as you get your share of carbohydrate, protein, fat and fiber all in one dish. If you like pumpkins, you should try this.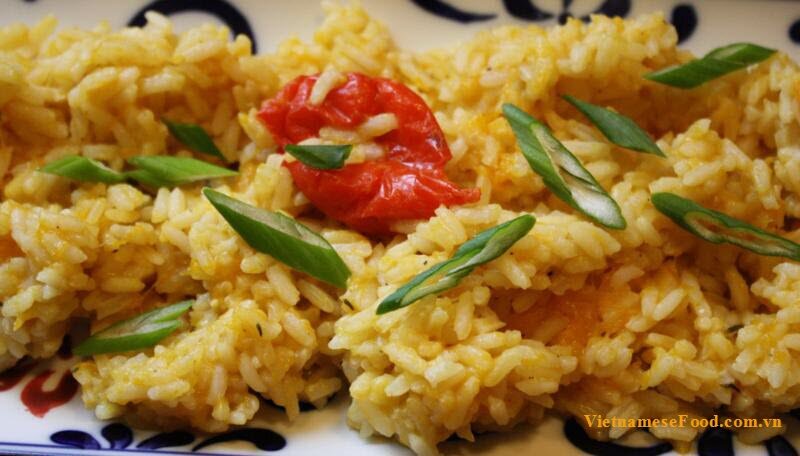 Pumpkin with Boiled Rice (Cơm Bí Ngô)
Fry shallots in oil till golden brown. Remove fried shallots and set aside. Remove oil separately into a bowl.Bring a pot of water to boil and add belly pork. As the water starts re-boil, remove scum from surface till no more scum appears. Remove pork and allow cooling. Cut the pork into small pieces (just like the mushroom strips), retaining the fat.