From many stunning Vietnamese Dessert Recipes, today is the special day when I decide to introduce one traditional candy from our country. It is called Peanut Candy (Kẹo Đậu Phộng). I am addicted this candy like chocolate one. After taking a nap, I eat some candy bars and it will make my last half day better. Moreover, I bet your kids will fall in love with it.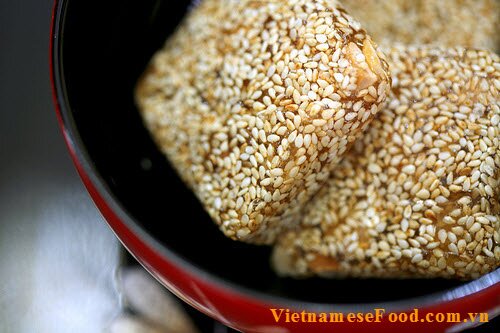 Peanut Candy (Kẹo Đậu Phộng)
This candy is really delicious, and do not cost much time for making. So, do you want to make it right now? Please follow our instructions below to create one of stunning Vietnamese Dessert Recipesfrom our country.

Ingredients:

300gr peanut
60gr sesame
180gr sugar
3 tablespoons water (50ml)
1 teaspoon lemon juice
1 vanilla tube
3 tablespoons roasted wheat flour – Buy at Vietnamese Markets.
1 large tray.

Process:

Step 1: Pour a little wheat flour on tray to make sure candy will not be stuck.