The step can cost much time for cooking Stewed Dried Bamboo Shoot with Pork Bone (Măng Khô Hầm Xương) is soaking and boiling dried bamboo shoot. It originally comes from many stunningVietnamese Food Recipes. However, you will create a stunning dish for your family and friends. It can become a main dish for your party or main dish in family meals. I usually eati this dish with hot boiled rice. How amazing it is, especially in cold days.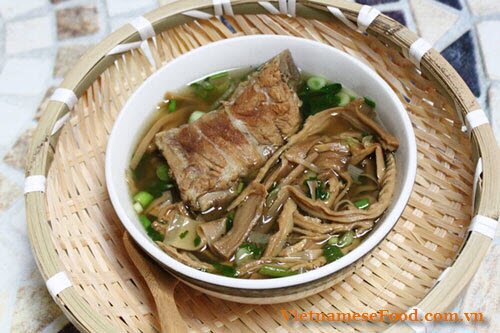 Stewed Dried Bamboo Shoot with Pork Bone (Măng Khô Hầm Xương)
So, are you ready to cook this dish for your party or family meals? If you want to cook one of amazingVietnamese Food Recipes like this dish, please follow carefully our instruction below. Let us start cooking now.

Ingredients:

200gr dried bamboo shoot
400gr pork bone (have bone and meat) – You can use pork chop if you want
Fish sauce, salt, Maggi's stuff, pepper
Garlic, purple onion, peeled and minced
Scallion, coriander.

Process:

Step 1: Cut the old part of dried bamboo shoot, tear into long pieces. Soak into cold water about 1 day. Sometime you should change water (At least 3 times) to make sure bamboo shoot will less sour and help broth more clear.